Bobcat
Trending
Bobcat 337-341, OEM Service and Repair Manual.
This original and high-quality manual of Bobcat 337-341 contains detailed information, diagrams, real photo illustrations and wiring schemes, which give you complete step by step operations on repair, servicing, technical maintenance & troubleshooting procedures for your Bobcat Machine.
The information in this manual will enable you to find trouble and to understand how to repair and maintain your Bobcat 337-341 without going into an expensive and pricey service. In addition to space savings, the nice thing about having PDF files instead of a hard-printed manual is that you can use the "Search" feature in Acrobat to find just what you're looking for and just print out the exact pages you need… or all manual as many times as you want.
---
The "Service Manual" covers the following serial models:-
(G Series)
337 – S/N 234611001 & Above
341 – S/N 234711001 & Above
CONTENTS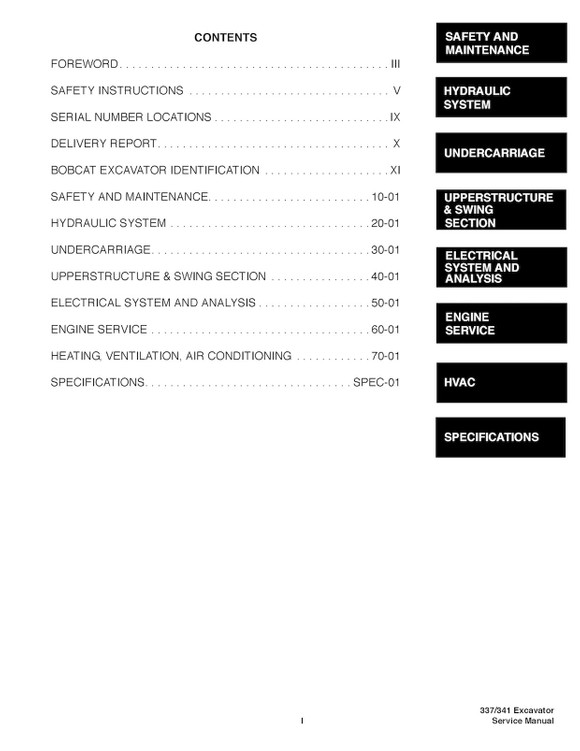 This manual is your number one source for repair and service information. It's specifically produced for the do-it-yourself-er as well as the experienced mechanic. Using this workshop service repair manual is an inexpensive way to keep your Bobcat Machine working properly.
---
File Format: PDF
Number of Pages of Service Manual: 1,037
Language: English
Printable and Searchable: YES
Looks like you have blocked notifications!